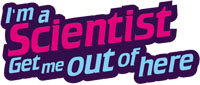 Reading the Twitter feeds, it seems that a number of scientists participating in I'm A Scientist, Get me Out of Here have struggled with their profiles.  It's one thing to design an elegant experiment or write a smart paper – but describing yourself in three words or telling a joke that's actually funny isn't something most PhD's prepare you for!
However, the participants have risen to the challenge admirably, and most profiles are up now – just in time for the web site going live to teachers.
Browsing through the profiles, there are some pretty smart and interesting people here – the competition's going to be tough!  Here are just a few entries that caught my eye:
Philip Wadler (Beryllium Zone) was clever enough to add a hot link to his three word description of himself, which is a rather cryptic "Not serial killer" – appropriately, he's a computer programmer.

Antonia Hamilton's (Oxygen Zone) description of what she does: "I use brain scanners to see how people understand each other" – rather cool!

Paul Roche (Fluorine Zone) "astronomizes." Is that a word?  If it isn't, it should be! He also claims to "teach people about life, the universe and (almost) everything" – astronomers!

Zoe Duck (Neon Zone) studies "the surface of the bacterium that causes bubonic plague" which is rather novel. I also see that her answer to "Tell us a joke" is "Manchester City" – hope she doesn't have any Mancunian students!

Andrew McKinley (Sodium Zone) wanted to be a Ghostbuster when he grew up – I guess "scientist" was the next best thing.

Sian Foch-Gatrell (Magnesium Zone) epitomizes the quality of the jokes in these profiles: "Q: What is the fastest way to determine the sex of a chromosome? A: Pull down its genes." Ouch!  But if you want a good source of corny science jokes, this is definitely the place to come!

Paula Salgado (Aluminium Zone) has a great pictorial account of her typical day.  She also has a great idea for how she would spend the £500 if she won – "Meet the scientist" – Scientific speed networking.

Andrew Leitch (Silicon Zone) has what must be the most outrageous suggestion for how he would spend the prize money: "I think it's about time I had an oil-painting of myself to hang in the office…"  As you can guess, this is a rather cheeky response and his serious plans are very different!

Sarah Burl (Clean Zone) is one of the handful of scientists participating who isn't based in the UK – she is in The Gambia.  She also has a rather novel answer to "What's the best thing you've done as a scientist?" – "Cloned a sheep!"

I rather liked this answer to the same question from Fiona Randall (Brain Zone): "The best is yet to come!"

Leo Carcia (Cancer Zone) has a number of interesting responses in his profile, including his three-word description of himself: "Short, musical, stinky" – there's a conversation starter!

Reading the responses to "Favourite thing?" is revealing – I liked Rachel Fox's (Chemicals Zone) "Make lots of mess, but in a productive way…"

Michaela Livingstone's (Genes Zone) was also pretty good: "Having those little eureka moments when you put together all the bits of experimental data and finally realise what the big picture is."

Tom Hartley (Imaging Zone) has what must be one of the more unusual ideas for spending the prize money: '"Scan Your Teacher" day…' – you'll have to read the profile to see what that entails!
Browsing through the profiles of 100 scientists in 20 zones, this is going to be some event!  You can check them all out by visiting the zones from the I'm A Scientist Home Page – the above is little more than a taster!
Oh, and I almost forgot – my profile is sitting here, in the Silicon Zone.  Not as flashy as some maybe, but then the real competition begins when the questions start to flow 🙂
I'm A Scientist runs on-line from June 14 – June 25
Update 6/21/10 – corrected Michaela's "Favorite Thing" above!