A weekly reflection on life in academia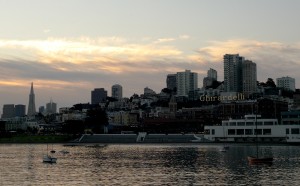 Most of this last week was spent in San Francisco, at the NISE Net (Nanoscale Informal Science Education Network) network-wide meeting – possibly my favorite meeting of the year (I might have mentioned that before).  This year I had the additional pleasure of opening the meeting in a double-act with Kathy Sykes.  Readers in the UK will be familiar with Kathy – for others, she is a rather smart scientist, communicator, broadcaster, science-festival co-director (she helped create and co-directs the Cheltenham Science Festival) and all-round good egg.  She is also a fellow physicist.  Two Brit physicists opening a US conference on informal science education – not bad eh!
One aspect of this meeting that I love – apart from the glorious location right by Fort Mason in San Francisco – is the eclectic and engaging mix of participants.  It's one of the few meetings I know where artists, performers, teachers, exhibit designers, communicators, "natural" scientists  (bit of a dodgy term), social scientists and others can get together and share their knowledge around a common theme – in this case, nanoscale science and engineering.
I was here as a NISE Net advisor and as a keynote speaker ("Current perspectives on nanotechnology" – in 45 minutes!).  Because of this, I think people were expecting me to enlighten them (apart the person who asked in the bar "so what's a Risk Science Director doing talking about nanotechnology?" – then sheepishly admitted the next day "I Googled you…").  I may have said some useful things – it's always hard to tell.  But what the organizers and participants probably don't realize is how much I gained myself from the meeting.
As always it seems at this meeting, listening to and talking with other participants ended up influencing my own thinking about nanoscale science and engineering.  I came away with my brain buzzing with new ideas on how to approach and understand nanoscale science and engineering from a social and educational perspective – largely due to stimulating conversations with people having a very different training and perspective to mine.  What is somewhat bizarre but highly gratifying is that I possibly find more inspiration from meetings like this than from scientific meetings where I'm reasonably familiar with much of the material being discussed.  I suspect it's something to do with being forced to think differently and more imaginatively about things, and having to approach issues from very different perspectives.
This is probably one added value of NISE Net that isn't sufficiently recognized.  But it's a tremendously important one.  NISE Net has developed an innovative process to introduce nanoscale science and engineering to people through science museums and other informal science education venues.  But that process is also educating the "educators".
So I'm extremely grateful to everyone at the meeting who helped me see the world, and the issues I grapple with, in new ways.
Thank you NISE Net!
Of course, the downside is going to be a whole new string of blogs revolving around nanoscale science and engineering.
Sorry!
PS – there's still time to vote on the Spider-Goat-Milk story I posted the other day.  This is directly related to the NISE Net meeting – a link that I'll reveal as soon as enough people have contributed to the poll!