I've just posted this over on the Risk Science Blog, but deviously thought I would also disrupt 2020 Science readers' day with it as well!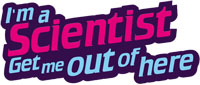 For the past couple of years, a highly addictive and innovative on-line teen science engagement event has been run in the UK. I'm A Scientist, Get Me Out Of Here pairs groups of scientists with classes of teenagers for two weeks, and the teens bombard them questions – about anything and everything. On each of the last four days of the event, the teens vote for their favorite scientists, and one by one the least popular are evicted. Until finally there is just one scientist left standing in each group.
It's brutal – I've been there – but at the same time enormous fun, and highly engaging.
Today is the last day of the current event, and 3:00 PM UK time this afternoon the victorious winners will be revealed.
But for the spectators, a major part of the attraction of the event is reading the questions the teens pose – and seeing how the scientists handle them.
And this year, you can search for questions on specific subjects.
S0 if your day is dragging a bit, this is what I suggest:
Head over to the I'm A Scientist website and search for questions on "risk" – or just follow this link, which will take you straight there. (Don't worry about the login box – that's just for participants).
But be warned – you can probably kiss goodbye to doing anything else for the rest of the day, once you get sucked in!
The search function by the way returns questions from all events so far. To delve into the current event's batch of questions and answers, head straight to the I'm A Scientist home page.
Original post: http://umrscblogs.org/2011/03/25/questions-teens-ask-about-risk/