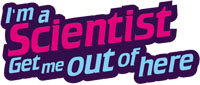 An hour or so ago, the final winners of I'm A Scientist, Get Me Out Of Here were announced.  To my surprise, I made it to the last two standing in the Silicon Zone yesterday, and have been on the edge of my seat today waiting to see whether I was going to be ousted by the rather younger and infinitely more hip Marianne Baker.
And who won?
Before I reveal that, I must say that this has been a brilliant event, brilliantly run by the folks at Gallomanor.  I'm sure there has been frenetic activity behind the scenes, but Sophia Collins, Shane McCraken and a whole host of staff and moderators have done an incredible job of coordinating 100 scientists, several thousand kids, an unbelievable number of live chats and a seemingly inexhaustible stream of questions.  And all the while keeping their sense of humor!
Then there are the scientists.  The four other scientists in the Silicon Zone were fabulous – Paula Gilfillian, Emma Pilgrim, Andrew Leitch and Marianne Baker.  Putting the competition aside (and I seriously don't know why the students ended up voting for me rather than the others), everyone did a wonderful job of engaging with the kids and providing great answers.  Don't believe me?  Check out their answers to the questions, and I can guarantee you'll end up thinking "wow – this is so good they should have won!" – many of my answers were plain and mundane by comparison.
And the students?  What a great bunch!  Their questions stretched and challenged all of us – as well as leading to rather more laugh out loud situations than is probably proper in scientific circles!  Okay so there were some who tested our patience (you know who you are…), but what an enriching experience!
And the winner?
Well, to be honest – it's the students!  What better way to inspire the next generation of science-savvy individuals than by getting them excited about science in the classroom.
Brilliantly done I'm A Scientist!
Oh, and if you really want to know who the last scientists standing were, here's the full low-down.
Update:  If you're inspired to take part in I'm a Scientist 2011 – you can already sign up here!
Update 9/6/10 – Oops, a gremlin crept into Marianne Baker's link!  Now fixed.  You can also read her blog at Purely a Figment of your Imagination.